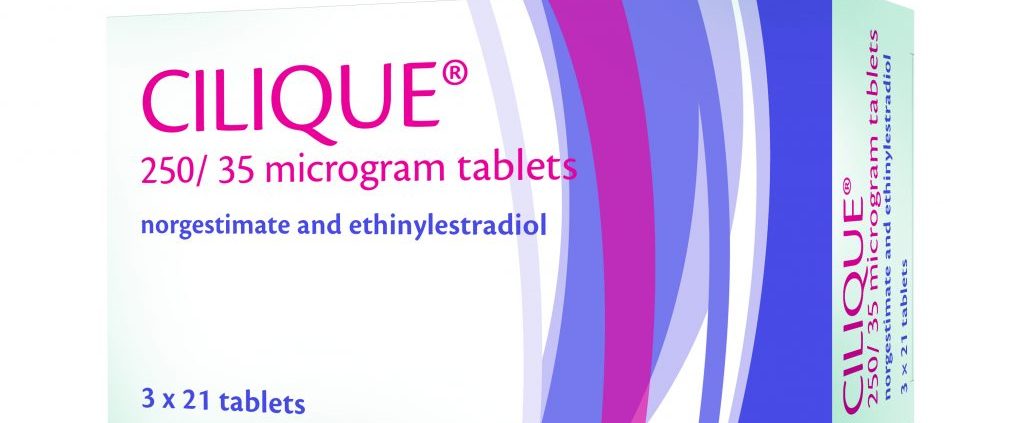 CILIQUE NOW GMS REIMBURSABLE FOR PATIENTS AS AN ALTERNATIVE TO CILEST
Health care professionals may be aware that Cilest (250 micrograms norgestimate / 35 micrograms ethinyl estradiol) is being discontinued in Ireland, from July 2019.
Consilient Health provides an alternative medication called Cilique. Cilique contains the same active ingredients – 250 micrograms norgestimate / 35 micrograms ethinyl estradiol – as Cilest.
Cilique is now GMS reimbursable, effective 1st September 2019. Cilique is available to Irish patients in a 3 month pack (21 tablets x 3) at a net wholesale (MIMS) price at €4.65 and reimbursement price of €5.02. Further information on Cilique can be found at www.medicines.ie and www.evorel.ie.
Consilient Health also supply GMS listed oral contraceptives Violite, Azalia and Ovreena and non-GMS listed oral contraceptives Elvina and Elvinette.
For further queries about Cilique or about any Consilient Health medicines or services, please contact Consilient Health on 01 2057760 or irishoffice@consilienthealth.ie.
Abbreviated Prescribing Information –  for  full  prescribing information, including side  effects, precautions and  contra- indications, see  relevant Summary of Product Characteristics (SmPC) Product Name and Co mposition: Cilique 250/ 35 microgram tablets: 250 micrograms of norgestimate and 35 micrograms of ethinylestradiol. Please refer to the relevant SmPC for a full list of excipients. Indication: contraception. T he decision to prescribe these products should take into consideration the individual woman's current risk factors, particularly those for venous thromboembolism (VTE), and how the risk of VTE with these products compares with other combined hormonal contraceptives (CHCs). Dosage and Administration: One tablet is to be taken daily for 21 consecutive days at about the same time of day and in the order shown on the blister pack. Each subsequent pack is started after a 7-day tablet-free interval, during which time a withdrawal bleed usually occurs. For details of usage, especially where a patient either misses a dose or has vomiting/diarrhoea, please refer to the SmPC. No data are available on safety and efficacy of desogestrel in adolescents below 18 years. Contra-indications: Hypersensitivity to the active substances or any of the excipients, undiagnosed vaginal bleeding, presence or history of severe hepatic disease (whilst liver function tests are abnormal). Cilique: Presence or risk of venous thromboembolism (VTE); or arterial thromboembolism (ATE); high risk of arterial thromboembolism due to multiple risk factors or to the presence of one serious risk factor such as (a) diabetes mellitus with vascular symptoms, (b) severe hypertension (c) severe dyslipoproteinaemia;  acute or chronic liver disease, including viral or non-viral hepatitis or severe cirrhosis, or a history of these conditions until at least 3 months after abnormal liver function tests have returned to normal; hepatic adenomas or carcinomas; known or suspected sex-steroid influenced malignancies; undiagnosed vaginal bleeding; hypersensitivity to the active substances or to any of the excipients. Warnings and Precautions: Prior to starting or resuming use a complete history should be taken, physical examination performed and pregnancy ruled out. The woman should be instructed to carefully read the user leaflet and adhere to the advice. It is important to draw attention to the information on VTE and ATE, including the risk of using these products compared with other CHCs, the symptoms of VTE and ATE, the known risk factors and what to do in the event of a suspected thrombosis. Women should be advised that hormonal contraceptives do not protect against HIV infections (AIDS) and other sexually transmitted diseases. The benefits of use must be weighed against possible risks in each individual case and discussed with the woman. Efficacy may be reduced in the event of missed tablets, gastro-intestinal disturbances or concomitant medication – see SmPC for details. Cilique: Blood pressure should be measured prior to starting or resuming use. In the case of undiagnosed, persistent or recurrent abnormal vaginal bleeding, rule out malignancy. If bleeding irregularities persist beyond three cycles or occur after previously regular cycles, further diagnostic procedures should be considered. Conditions requiring supervision: breast feeding; increased risk of VTE or ATE (please refer to the SmPC for a list of risk factors and symptoms for VTE and ATE); adequately controlled hypertension (persistently elevated baseline systolic values 140- 159 mm Hg or diastolic values 90-94 mm Hg); obesity (BMI ≥ 35 kg/m2); history of cholestasis (related to COCs), current or medically treated gallbladder disease, porphyria; history of breast cancer, 5 years disease-free. The increased risk of thromboembolism in pregnancy, and particularly the 6-week period of the puerperium, must be considered.  A hepatic tumour should be considered in the differential diagnosis when upper abdominal pain, enlarged liver or signs of intra-abdominal haemorrhage occur.  A slightly increased relative risk of breast cancer has been observed in COC users, although direct causation has not been shown. A possible increased risk of cervical cancer has been reported with long-term COC use.  If bleeding irregularities persist beyond three cycles or occur after previously regular cycles, further diagnostic procedures should be considered.  Women with hypertriglyceridaemia, or a family history thereof, may be at an increased risk of pancreatitis when using CHCs. Oral contraceptives may cause a decrease in glucose tolerance; pre-diabetic and diabetic women in particular should be carefully monitored while taking oral contraceptives. Consider the risks associated with the following before prescribing oral contraceptives: asymptomatic gall bladder disease or cholecystectomy; benign liver tumours; migraine without focal aura (the onset or exacerbation of migraine or development of headache with a new pattern which is recurrent, persistent or severe requires discontinuation of oral contraceptives and evaluation of the cause). Crohn's disease and ulcerative colitis have been associated with CHC use.  Chloasma may occasionally occur, and women with a tendency to this should avoid exposure to the sun or UV radiation whilst taking Cilique. Cilique contains lactose and should not be taken by patients with rare hereditary problems of galactose intolerance, the Lapp lactase deficiency or glucose- galactose malabsorption. Depression can be serious and is a well-known risk factor for suicidal behavior and suicide. Women should be advised to contact their physician in case of mood changes and depressive symptoms, including shortly after initiating the treatment. Undesirable effects: Prescribers should consult the SmPC in relation to other adverse reactions Cilique:  Very common (>1/10): headache, gastrointestinal disorder, vomiting, diarrhoea nausea, dysmenorrhoea, metrorrhagia, abnormal withdrawal bleeding.  Common (>1/100 to <1/10): urinary tract infection, vaginal infection, hypersensitivity, fluid retention, weight increased, mood altered, depression, nervousness, insomnia, migraine, dizziness, gastrointestinal pain, abdominal pain, abdominal distension, constipation, flatulence, acne, rash, muscle spasms, pain in extremity, back pain, amenorrhoea, genital discharge, breast pain, chest pain, oedema, asthenic conditions. Net W ho l esa le P rice: Cilique 3 x 21 tablets €4.65; Legal Category: POM. Marketing Authorisation Numbers; Cilique PL 24837/0058; Marketing Authorisation Holder: Cilique: Consilient Health Limited, 5th Floor, Beaux Lane House, Mercer Street Lower, Dublin 2, Ireland. Further information is available on request from: Consilient Health Ltd,2A Richview Office Park, Clonskeagh, Dublin 14, or irishoffice@consilienthealth.ie.  Date of Preparation of PI: March 2019; IE/OCS/1218/0092(1)
Healthcare professionals are asked to report any suspected adverse reactions. To report an adverse event or a product complaint about a Consilient Health medicine, please contact Consilient Health at drugsafety@consilienthealth.com or 012057766. Adverse events or product complaints can also be reported to the Health Products Regulatory Authority. Report forms and information can be found at www.hpra.ie then click on 'report an issue'.
Date of Preparation: August 2019. IE-OCS-332.
https://www.evorel.ie/wp-content/uploads/2019/09/Cilique-packshot-for-poster-1030x671.jpg
671
1030
granitewordpress
https://www.evorel.ie/wp-content/uploads/2021/01/logo-white.svg
granitewordpress
2019-09-19 16:54:33
2019-09-19 17:07:25
Cilique now GMS reimbursable for patients as an alternative to Cilest